Last Friday was our meetup with @scrooger and @imdazu who were here for their holiday vacation, the day started off at 3.30 PM to pick up them at Cyberjaya down to our first stop of the food tour, Say Heng Durian Stall. People said that it's either you love it or hate it kind of food and that's the challenge where @scrooger and @imdazu will be facing that day, we reached there around 5 PM slightly off schedule as traffic is starting to build up on the highway.
Joining us there were @ackhoo, @zord189 and of course, the durians are just flooding up the rack and basket around the stall. We started off with a sweet but not so heavy smell and gradually increase the level to the highest of all, Musang King. Guess how well they take it with the Durians?
Well they absolutely adore it, enjoying the taste and that's not all, we actually tried out a total of 7 different species of Durians over the course and taking photos is something that's inevitable. Moving forward is our dinner at Yu Kee Bak Kut Teh, SS14 which is just a short drive over and of course, the traffic is the cause of everything so far apart.
Like our previous stop, Say Heng Durian Stall, Yu Kee Bak Kut Teh has been famous for one stop dinner place for quite a lot of International Steemians who have visited KL. If you arrived early before 7 PM, you'll be more likely getting the best spot in da house which is outdoor seating. Joining us together for dinner were @digitalmind, @karinzdailygrind and @bitrocker2020, our Malaysia Witness which we'll need a proper photography of handshake between the two witnesses, @scrooger.
We have ordered a 3 person Soup Bak Kut Teh, 2 person Dry Bak Kut Teh, Small Pork Leg Vinegar, Two dishes of Vegetable and filled it off with Fried Breadstick. All the yummy food were served up within 15 minutes as we're the early bird and usually, this restaurant will be fully crowded with people around 7.30 PM and all the good seating will be taken unless you're lucky. Everyone got into the semi-silent mode of eating when our mouth is totally full 🙊 and lovely @ireenchew also take time to drop by to hang out with us before picking up her children.
Surprisingly, there's not a single blow of wind when we're eating our meal and everyone is so hot that we have to pay up and move to another place with air cond. This requires some additional planning for an unexpected early dessert at Fatboy Ice Cream at SS15 and @kevinwong is here to join us all 🙌🏻.  There's always room in the stomach when comes to desserts, ain't that true?
I've ordered myself a Single scoop Belgian Chocolate Waffle, while everyone else is enjoying the coldness of the air cond and mingling around with each other. Around 9 PM, the dessert shop is fully crowded with people and it's our signal to move place to our 2nd dessert place (or we shall call it Supper 😬).
Unlike most of the Mamak stall that operate on a shop with a roof, this Nasi Lemak Bumbung operates behind a road alley between two lots of shop just like the picture shown below and looking for a table is quite challenging as there were many people coming too. We're lucky that we found a table underneath a wall fan and it's not too shady too for pictures.
Nasi Lemak Ayam Bumbung, one of the most famous dishes here which @scrooger and @imdazu just can't get enough from 1 plate only 😏. With the second dish, @imdazu is thinking of kidnapping the chef back home 😂. As Malaysian, mamak it's a one-stop place to hang out after dinner or any events, @littlenewthings, @chloephuan93 and @denion were able to make it and join us for supper too after their busy schedule of the day.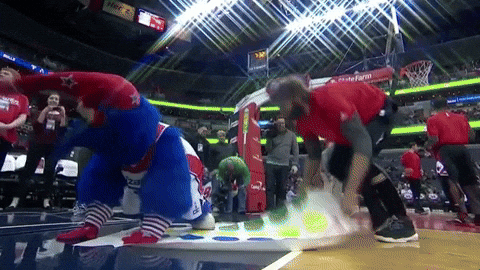 @imdazu performing kidnap on the Chef 😎 
Time flies and it's time to call it an end of our wonderful meetup, sending off @scrooger and @imdazu back to their accommodation at Cyberjaya and already planning for their next visit back to Malaysia for some more awesome eat out. I've got to create a long list for @imdazu the next time she back into the city 😅 and last but not the least, group wefie!
Oh not to forget to thanks @scrooger for this awesome gift all the way from Korea by @qurator with my own custom steemit handle (@aaronleang) on it too and now with this mousepad, my workstation is more complete than ever.
Who Am I? 
I'm Aaron Leang from Malaysia, had started blogging on Steemit since November 2017 and has been actively participating in shaping and building up the community in Team Malaysia together with some other awesome Steemians.
I've been known as the meetup organizer for any local gathering and also International Steemians Meetup who came to visit in KL, Malaysia.
Ways to get in contact with me are Discord (AaronLeang✌️#5270) or Telegram (@aaronleang) while you're at Malaysia, I can set up an awesome meetup with #TeamMalaysia!
Interested in Steemit? You can get your account with just one click away, HERE and blog together with WordPress via SteemPress (@steempress-io) plug-in.